Rabobank TLS e-mail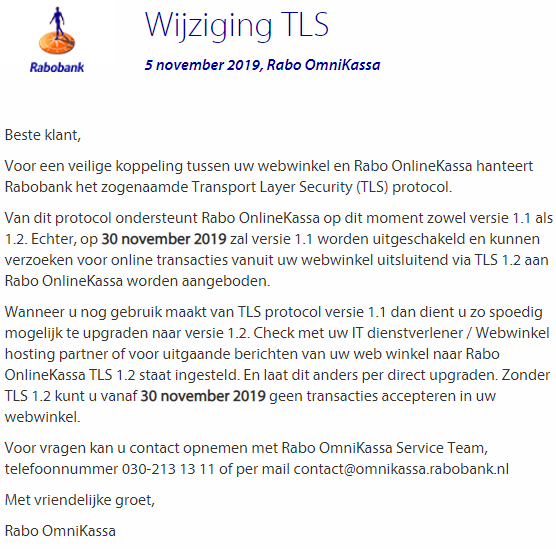 Wat is TLS?
TLS staat voor Transport Layer Security en is een verbeterde en veiligere versie van SSL (Ook wel herkenbaar middels het slotje en de https voor uw website naam). Wij noemen onze beveiligingscertificaten nog SSL omdat dit nog altijd de meestgebruikte term is. Maar wanneer u een SSL certificaat aanschaft, koopt u in werkelijkheid een TLS certificaat zodat u van de best beveiligde optie gebruikmaakt. Met de ontwikkeling van TLS zijn vele kwetsbaarheden die voorkomen in oude SSL protocollen verholpen en zijn nieuwe beveiligingsmechanismen toegevoegd.
bron: https://www.internedservices.nl/blog/ssl-tls-https-wat-het-en-hoe-werkt-het/
Bij wie moet u zijn?

Voor oplossingen van dit probleem moet u contact opnemen met uw eigen hosting provider (waar uw website geplaatst is). Zij kunnen u hiermee verder helpen. Het zal voor namelijk om de cUrl bibliotheek (7.34.0 of hoger) en OPENSSL bibliotheek (1.0.1 of hoger) gaan.


Komt u er nog niet uit?
Als u er nog niet uit komt of u heeft vragen, kunt altijd met ons contact opnemen via email of telefoon.
Telefonisch +31(0)522 746 060: maandag t/m vrijdag van 09:00 - 17:00 uur
E-mail support@ideal-checkout.nl*: maandag t/m vrijdag van 09:00 - 17:00 uur